Pressroom
Big Tech: Fabernovel analyses fourth-quarter results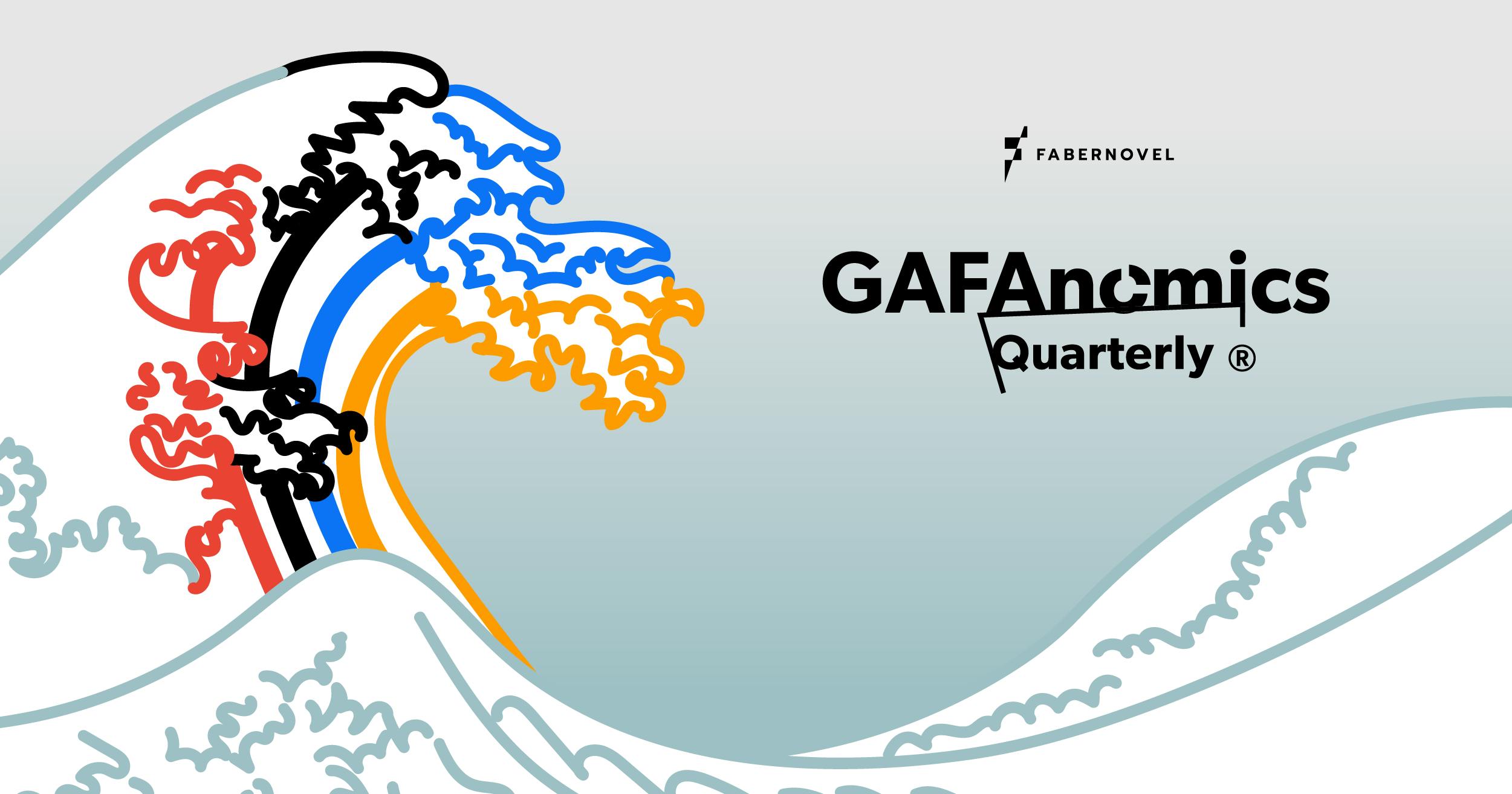 Fabernovel, an expert in digital transformation consulting and the creation of digital products and services, presents its new report, "GAFAnomics - Quarterly", which provides an overall analysis of the results of the disruptive Tech Giants* for the fourth quarter of 2020 (from November 5th, 2020 to February 5th, 2021). At a time when the new economy has paved the way for new rules for value creation, this Fabernovel report - which combines the financial, strategic, and technological vision of its experts - analyses the drivers of major technology companies and their development strategies. 
"Some trends that we have already addressed in our previous editions of GAFAnomics Quarterly have accelerated this quarter: Software and ESG are eating the world" explains  Axelle Ricour-Dumas, Director of Corporate Strategy at Fabernovel. "In 2020, the tech models yet again passed a milestone in terms of both absolute and relative valuation. The CSR stakes have also been a significant performance factor: such as Tesla's strong performance in the electric vehicle sector with their announced investments of Baidu and Tencent, but also the Facebook discount which is beginning to crystallize the fact that ethics is becoming a differentiating element. We have arrived at a pivotal moment for these tech models, as they continue to grow their positions almost exponentially by relying on considerable financial leeway and the key assets of their models, breaking the conditions for healthy competition. This reinforces the need to recreate a playground for new models."
A non-exhaustive synthesis of the GAFAnomics Quarterly :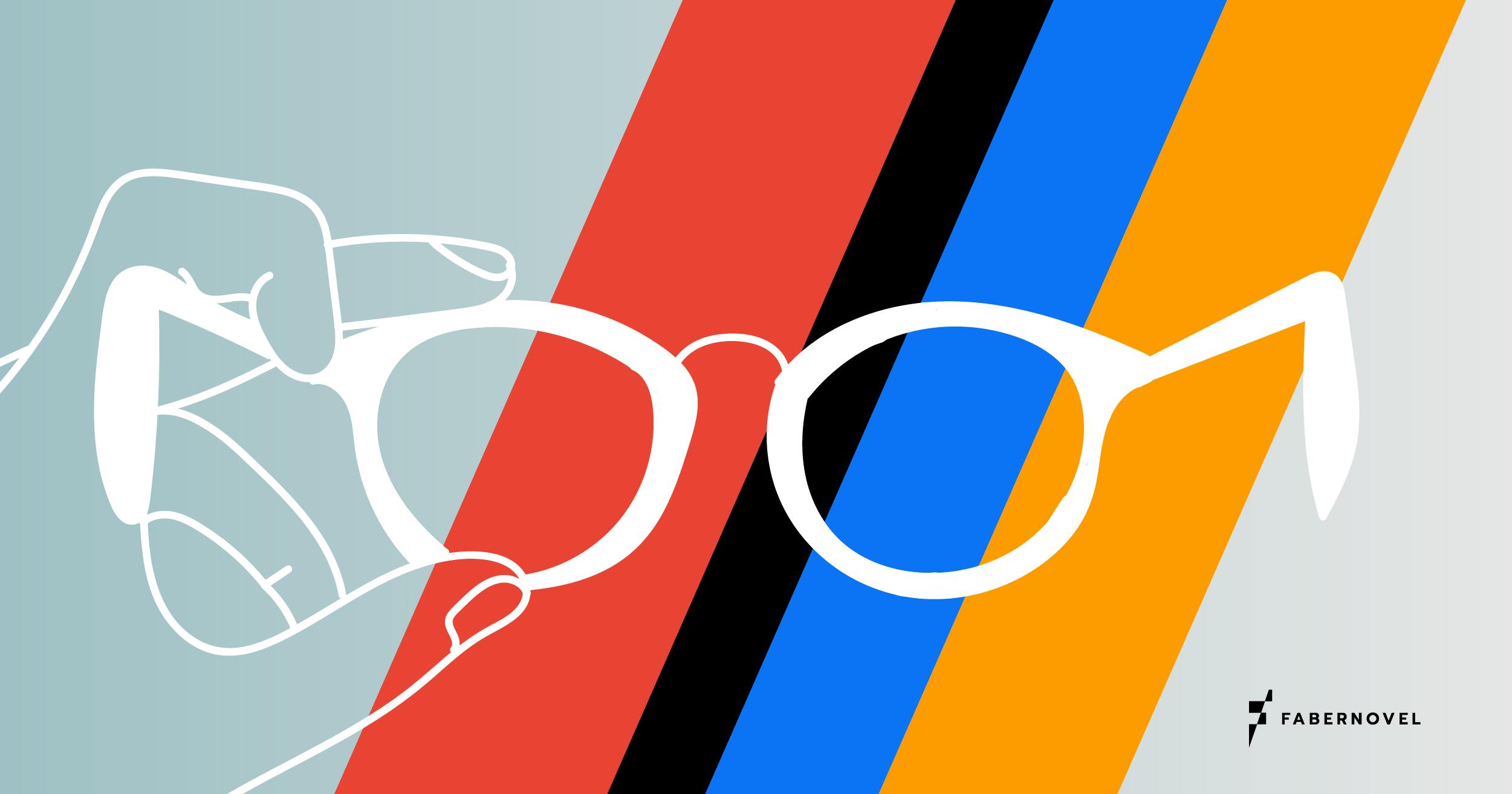 1) The Last Three Months Through the Eyes of Fabernovel


A good performance both financially and on the stock market according to the Fabernovel Index
On the stock market, the 20 tech giants analysed in the Fabernovel Index* generated $1,668 billion in capitalisation in the last quarter alone - the equivalent of creating a company the size of Amazon in just three months. Among these players, several propelled this capitalisation upwards, notably Tesla, which doubled its capitalisation in one quarter all the way to $407 billion (+102%).
These performances are also illustrated on the financial level since, despite a difficult year, these companies have seen (on average) a 25% growth in sales and 18% growth in cash flow compared to the quarter of the previous year. They have all been more profitable with an impressive +44% EBIT growth on average.
Our TOP: Baidu and Chinese internet are positively revalued by analysts
Baidu, the B of BATX; also known as the Google equivalent of search in China, almost doubled its share price in the past quarter. This is illustrated by its remarkable results (+165% of EBITDA) but also a strategic announcement of a partnership in the electric vehicle market with the Chinese company Geely. Over the past few weeks, analysts revised their estimates for Baidu, judging that the Chinese advertising industry will experience growth in 2021 and was significantly undervalued. This message was heard loud and clear, as investors seemed to follow the analysts' recommendations.
SURPRISE: Uber remains attractive to investors
The COVID-19 crisis has impacted Uber more strongly than analysts expected, with a rather poor performance in the last quarter, namely a 16% drop in revenues over the same period compared to last year (-8% compared to analysts' expectations). However, Uber Eat's home delivery service, galvanised by nation-wide lockdowns and stay-at-home orders, swept in and saved the day and saw a rise from 19% in 2019 to 35% in 2020 on its total purchases. But while Uber continues to lose money, the company is slowly approaching profitability by reducing its net loss from $8.51 billion in 2019 to $6.77 billion in 2020. In fact, the company's share price has doubled in the last quarter, showing that investors continue to have confidence in the company. 
Our FLOP: The Facebook discount 
Even if the financial lights seemed green for Facebook this quarter, the world turned against them as they accumulated plenty of hot topics: data dependency with Apple, the choice of banning Trump from its platform (which has led to a phase of a larger boycott of Facebook), as well as recent ethical concerns of the company. Even though the company remains among the world's largest capitalizations, investors are no longer as interested in the stock as they were in the past. The company's share price has not risen over the last 6 months despite their good results.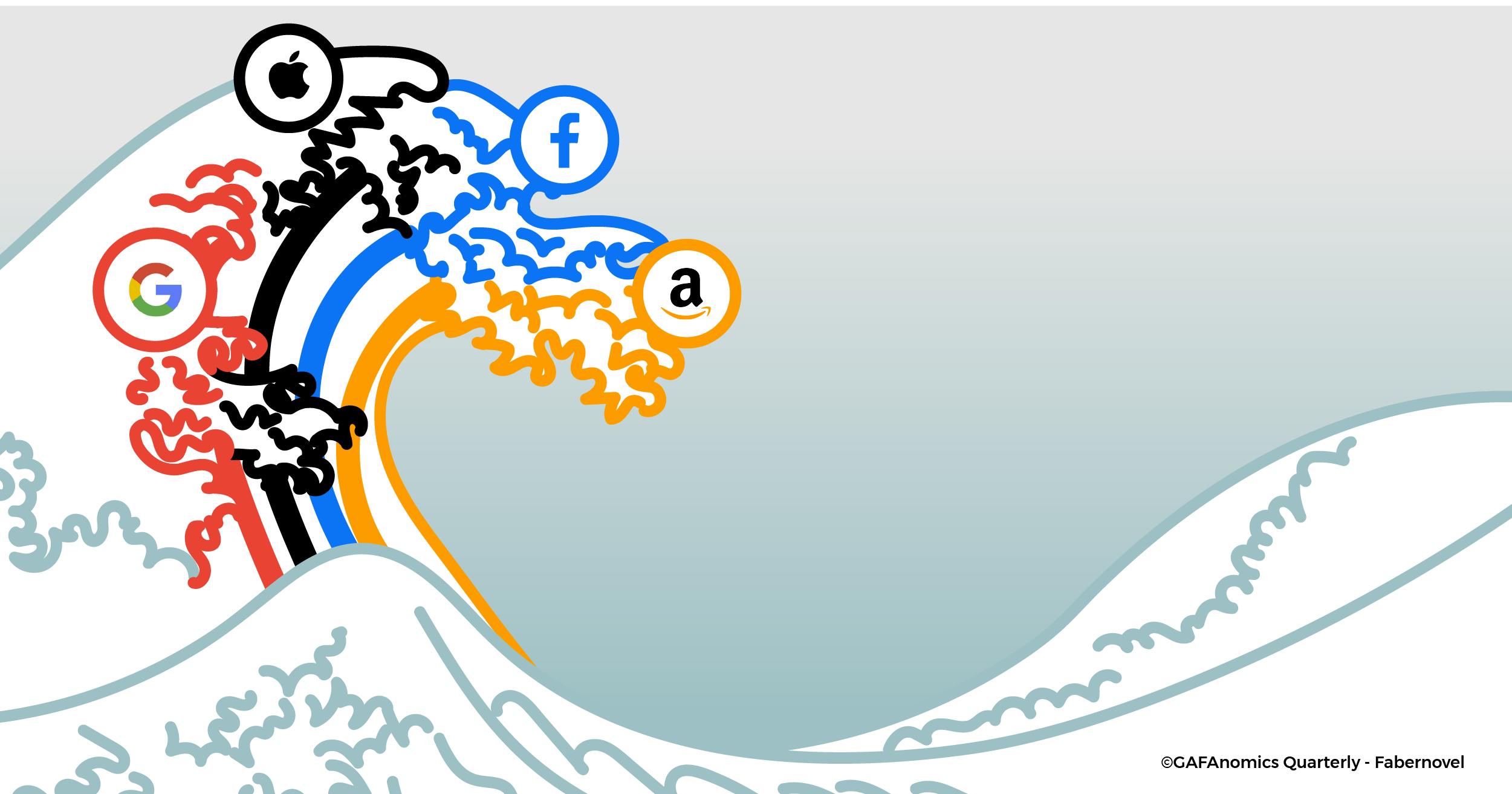 2) The Tsunami of The Tech Giants in 2020
The year 2020 has more than ever illustrated the importance of the Tech Giants in the functioning of day-to-day life. 45 minutes of Google's downtime was enough to show the hyper-utility of its services and the extent to which users were dependent on them. Although most European countries encouraged their citizens to support local businesses, the international health & safety measures established globally largely benefited players such as Amazon. For Amazon, 2020 was the best year so far in terms of performance and by consequence was able to experiment and play with the diversity of its products, delivery services and speed of adaptation. So much so that their actions have become beyond the control of the authorities. This is evidenced by Elon Musk, who allowed himself to tweet that the aforementioned stock price is far too high, as well as spread other inflammatory messages against the Fed, Google, Amazon, and Apple, who amongst other things decided on their own initiative to block the Talk application or Twitter and Facebook that decided to ban Trump. 
While the traditional industry has slowed down because of COVID-19 (0% sales growth in 2019-2020 for NYSE and French SBF 120 companies on average), the technology giants have managed to maintain a very high growth rate : 23% increase in sales (against +18% in 2019), and a +27% increase in pre-tax profits (EBITDA) (against 16% in 2019).
According to the Fabernovel Index of GAFAnomics Quarterly, these 20 companies experienced a median growth in terms of the market capitalisation of around 71% compared to 2019, whereas in previous years the median evolution was only around 31%. "The market capitalisations of the giants have peaked in 2020. Apple alone is worth the equivalent of all CAC 40 companies combined. The four GAFAs are equivalent to 17% of the capitalisation of the S&P 500 and 1,5 times the Shanghai Stock Exchange. These results illustrate the anti-fragility in the face of the COVID 19 and the ability of these giants to adapt to the constraints" explains Jérémy Taïeb, Financial Analyst at Fabernovel and co-author of the study. 
3) The Urgency of Rebalancing Big Tech models 
In the space of 20 years, the Big Techs have become the most powerful companies: 8 out of 10 are on the podium. These evolutions have sparked awareness of both consumers and regulators who have sanctioned certain abuses on a case-by-case basis. Fines that represent only a small impact on the model given the pile of cash that these giants have accumulated. Therefore, to regulate effectively, it is necessary to fully understand the complex models and strategies of the Tech Giants, which were based on the value loop model of interconnections and bridges between their different products and services. It is these models that in extreme cases have led to cases of abuse of dominant positions.
This study makes it possible to decipher five illustrations of these models: 
Increasingly close interconnections between activities 
For example, Amazon has pushed its interconnections with its Amazon Prime offer to the extreme, including Prime Video, which acts as a call product and is part of a value loop to attract and redirect new customers to the marketplace, the same marketplace that will reinvest in the financing of Prime's video productions, which inversely operates at a loss. This creates an unfair competitive advantage over streaming services that have to achieve organic profitability and therefore cannot compete with Amazon's investments in content ($7 billion in 2020).
Exclusive access to data 
Google's access to data, but especially its collection and retention of data from its partners, has consolidated its position as a gatekeeper: a key element for advertisers. In France, Google's position of strength allows it to dictate the rules of the advertising market by driving down prices, taking advantage of its ability to negotiate alone in the face of a fragmented market of more than 285 press titles.
Exclusive access in application distribution
As for Apple - they currently possess the sole power to distribute the almost 2 million applications developed by its ecosystem on its iOS operating system.  Apple relies on this gatekeeper position to unilaterally define its own pricing policies and terms and conditions. As a result, Apple has total decision-making power over the fixed percentage of commission, leading them to capture the most of the value, while some markets are seeing an erosion of their margins. An example of this would be the video game industry, which has had its margins halved in less than 10 years.
From the construction of an entire ecosystem to a phenomenon of concentration
Thanks to its various acquisitions (Instagram, Whatsapp), Facebook has strengthened its position as a market leader, becoming a must with its 2.7 billion monthly active users. In the last ten years, Facebook has acquired 92 companies, compared to an average of 24 for acquisitions of S&P 500 companies.These takeovers of established competitors, who were already no longer small startups, are tantamount to monopolizing a market's innovation capabilities and creating significant barriers for challengers. This position allows Facebook to dictate its terms, both to its users and to advertisers. 
Leveraging a strong ecosystem of services
The Slack collaboration tool is sold as a standalone service ($6.67 per user), whilst Microsoft offers its competitor's solution as part of its Office 365 suite service package for less than $5 per user.  Without this Office Suite, it is unlikely that Teams would have been able to grow twice as fast as Slack. It's hard for competitors to compete with a base of 200 million active users per month and the speed of these models, despite the features and benefits of an individual application, as Salesforce's acquisition of Slack attests. 
"Regulation must aim to set limits on GAFA while preserving their power to innovate and their ability to create value for businesses and users. Today, the concentration of GAFA is leading to a monopolistic effect that endangers companies. This implies correcting the current excesses, but also offering prior regulation to anticipate future developments of new giants of this economy" explains Gabrielle Peyrelonge, Analyst at Fabernovel, and co-author of the study.  
"Regulation alone will not succeed in reversing the current trend and allow the emergence of European champions. It is necessary to be proactive and to implement European industrial plans to stimulate and foster innovation, through the interoperability of supply chains or the modernization of value loops and infrastructures. Companies must join forces and create alliances in order to collaborate more equally with the GAFA, but also challenge them and propose European alternatives", concludes Axelle Ricour-Dumas, Corporate Strategy Director at Fabernovel.
*The sample studied this quarter 01/06 to 01/09: Apple, Alphabet, Alibaba, Amazon, Baidu, Facebook, Lyft, Microsoft, Netflix, Tesla, Paypal, Samsung, Salesforce, Snap, Spotify, Square, Twitter, Tencent, Uber, Zoom