Case study
Breitling re-enters the Chinese market with a bang
Breitling marked its reentry in China with an impactful integrated marketing campaign. This marketing plan helped Breitling ramp up its sales performance significantly and achieve greater brand awareness in the Chinese market. 
Team
1 digital marketing manager,
1 account executive,
1 copywriter,
1 graphic designer,
1 UI/UX developer,
1 H5 developer, 
1 media specialist
As one of the oldest Swiss luxury watchmakers, Breitling had already prospered in most of the vital markets by 2018, but its exposure in the booming Chinese market was relatively low. It was therefore critical for the brand to ramp up its effort to tackle the Chinese market. Together we deployed an integrated marketing campaign as its Chinese expansion plan, with the highlight of launching its new collection named "Premier". The purpose of the campaign was to improve brand awareness among Chinese consumers, recruit new followers, and drive conversion rate.
The key to this  challenge was to "meet" the potential client where he naturally is.
A strong understanding  of Chinese culture and social media usages was of the essence. Following the set objectives, our Shanghai team proposed and executed a digital strategic marketing plan around top Chinese platforms with the following steps:
Design one HTML 5 involving Cinema Squad assets, mini interactive games, mini program boutique, offline boutiques and exhibition to reach and engage wider range of customers


Leverage a Chinese celebrity influence to generate social content


A widespread ads push on 5 targeted platforms: Hupu, Toutiao, Xbiao, Pengpai, Mott, to attract male consumers who are the main purchaser of the brand


Social Ads and KOL to further amplify the social buzz


O2O mechanism design to guide the traffic to offline event & 4 boutiques
177%
achieved WeChat followers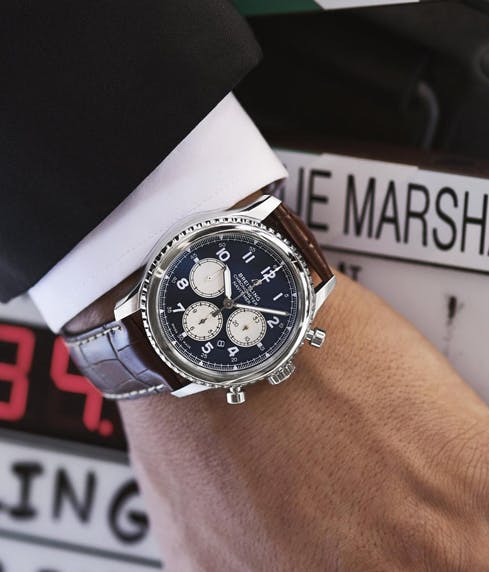 Thanks to this campaign, which achieved 206 million impressions and 3.7 million engagements, Breitling saw 177% increase in WeChat followers, with 4,540 new leads being generated.
A roaring success!