Mobility-as-a-Service: still a work in progress
September 19, 2019, 7 min to read

Mobility-as-a-Service: a comprehensive, optimized, fluid mobility experience, from planning our journey to arriving at our destination. A promise that draws on the 'user-centric and 'experience-oriented' core principles upheld by leading names in the digital sector with a view to sustainably revolutionizing how we get around. How? At what price? And most importantly, where do traditional operators come in?
In the summer of 2019, six crucial updates were made to the CityMapper app over a two-month period. These included the integration of traditional transport methods — London's black cabs — as well as new ones — more new electric scooter brands — in a growing number of cities around the world... The speed at which CityMapper is rolling out improvements to its service is impressive, perhaps only rivalled by Google Maps.
New entrants to the market posing a threat to traditional mobility operators is nothing new (although the phenomenon is picking up speed): in 2015, Transport for London shelved plans to develop its own journey planner smartphone app, believing that CityMapper already offered a sufficiently comprehensive service for travelers. The London transport authority chose instead to open up access to all its data, signing a reciprocal agreement with the start-up to feed back into its infrastructure investment decisions.
If digital companies are successfully entering what was once the preserve of public transport operators, it is because they are able to draw on a different type of infrastructure and a firm belief that mobility needs to be mobile. Boasting a 130% penetration rate in European cities even before the concept of smart cities and connected objects has fully emerged, it is citizens themselves who have ushered in the urban digital revolution, with their smartphones. Digital companies excel in providing efficient, simple and fluid mobile experiences that exceed users' expectations, injecting a little fun into the experience, and anticipating their needs. As an example, CityMapper's "with air-con" itinerary suggestions were a godsend during the heat waves that swept across Europe last summer. And since these companies are primarily digital, with ridiculously low marginal costs, they are able to roll out these experiences on a large scale.
But what about public transport operators? Like many other sectors affected by disintermediation, they find themselves facing unprecedented challenges. Every emerging digital company success story is a fresh blow to traditional operators. Let the battle commence!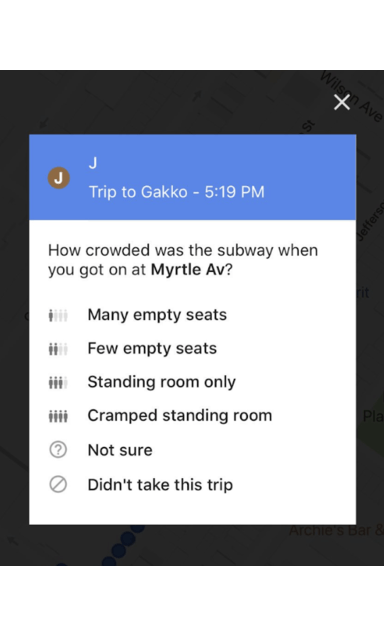 1.Digital companies are able to capture the lion's share of client data and any value that might be extracted from it.
When a user plans their journey with Google Maps, the transport operator(s) whose networks they use will only be aware of the starting point (and possibly end point) of their journey. Google, on the other hand, is able to work out their intentions, doubts and preferences, and may even be able to record the time it took them to complete their trip. Google can take things one step further, too, by asking the user to rate the saturation of buses or subways, feeding this information back to all other users via estimated travel times and most seamless itineraries.
2. By juggling and aligning these flows, they also reduce the value that operators may be able to capture. 
Trainline and Tranzer are capable of offering a planning, booking and purchasing experience that is so fluid they are turning rail travel into a commodity they sell on their servers, snapping up a percentage of the price as they go. This process is taken to the extreme, with travelers ultimately using the SNCF, DB and Thalys networks interchangeably. The added value here lies in planning and simplified booking for the most efficient journey (fastest, cheapest, etc.). Because these companies position themselves as intermediaries right from the start of the customer experience, they enjoy a unique position that renders transporters' own services moot, thereby running the risk of dissolving their brand or experience specifics.
3. Digital companies are taking over customer service roles, blending seamlessly with changing user needs and behaviors. 
Just as Netflix can interpret viewing data to orient new productions towards what it believes its users like to watch, mobility platforms are directly plugged into travelers' changing needs and habits. This is how, for example, CityMapper came to launch its on-demand Smartbus service in London, now discontinued. This experimental line plowed CityMapper's user data to offer optimal routes and frequency to meet demand in real time.
On another level, an easily overlooked augmented-reality feature was integrated into the CityMapper app: although it may not yet seem overly significant, it points to a desire to explore augmented reality's potential in mobility applications. 
4. They set inescapable international standards.  
Because they are so popular and widespread, apps such as Google Maps, Whim and CityMapper have created new user trends, and standards that are then often replicated across other similar services developed by public transport operators: Entry points featuring maps and geolocalization, simplified user experiences with crystal-clear feature hierarchies (the most prominent button in the CityMapper experience is generally the Get Me There button), and more.
Let's not forget that the international transportation data format, GTFS (General Transit Feed Specification) was initially known as the Google Transit Feed Specification! This standard was born of a 2005 collaboration between a Google employee and two IT managers from Portland's public agency, who were frustrated with the lack of reliable public transport journey planning services in cities they weren't very familiar with, despite easy-to-follow road routes on offer from the best-known map providers. The format specifications they locked down were made free to access, which encouraged developers to base future digital mobility services on this format. Today, it's everywhere you look.
5. New entrants on the market are reshaping our public spaces. 
And they're doing so with zero discussion with public authorities. These companies are expanding at dizzying speed, bypassing public bodies and their road maps. When it comes to very short-distance trips, for example, self-service electric scooters have taken over major cities with very little consideration for public strategy, while offering a faster solution to the network saturation and crowding issues that operators and authorities have been trying to tackle from many different angles for a number of years. By targeting final users directly and providing them with an accessible, easy-to-use solution, they are building new behaviors, anticipating current system obsolescence before it occurs, and shaping the urban landscape with little thought for town planning.
It is safe to say that emerging mobility companies are moving fast. Very fast.
Perhaps even too fast.
Although they are able to offer individual users a seamless, frictionless experience — which explains the impressive speed at which they have been adopted in large cities — they give little consideration to the impact they have on society as a whole. We have all seen the rows of abandoned electric scooters lining our pavements and floating on the surface of our canals.
Mobility-as-a-Service (or MaaS) makes huge promises: User-centric design, an economically virtuous platform model, a shift away from private vehicles and the adoption of multi-modal mobility solutions. But although MaaS is emerging through platforms based on dazzling UX (user experience) that aim to offer one-stop-shops covering door-to-door itineraries, journey planning, ticket validation and payment, it needs to serve above all as a community-wide solution to tackle saturation and crowding in our cities, foster a more sustainable environmental management process, improve public health and make mobility more inclusive. MaaS extends well beyond the digital domain, and should be seen as a ground-breaking new era that belongs to everyone: not just a handful of tech giants. 
Mobility today, and especially tomorrow, cannot become synonymous with mobile technologies. It needs to go deeper than that. Public authorities' mobility policies encompass essential inclusivity factors that must be taken into account: narrowing the digital divide, opening up accessibility to more than just a privileged few, making it possible to get around without an Internet connection, etc. In these areas, the traditional agencies and bodies can and must play a key, structural role in shaping the future of mobility. That's why at Fabernovel we're convinced there is room for a new model to emerge. A model that looks beyond the final user. To be continued... (in our next article).