Chris Messina, The Bots and the Year of Conversational Commerce
January 31, 2017, 4 min to read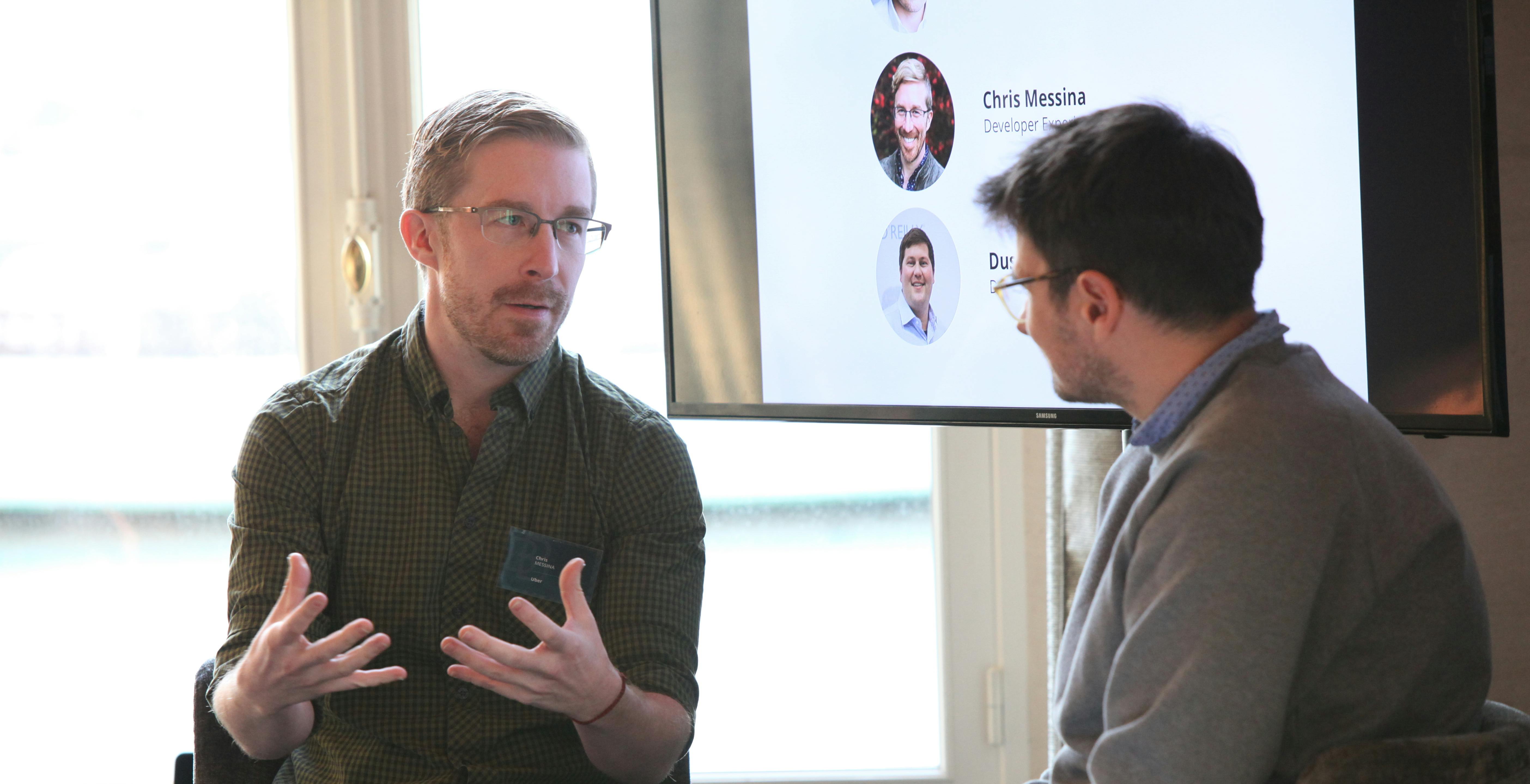 artificial-intelligence-ai
bots
ux-and-ui
economy
Chris Messina, Ex-Developer Experience Lead at UBER, talked on December 15 at the last Business & Breakfast organized by FABERNOVEL INNOVATE. Moderated by Baptiste Bénézet, CEO at Applidium, the discussion focused on bots and "conversational commerce". Chris Messina reiterated his view on bots as new platforms to engage customers and re-invent their experiences. "Conversational Commerce" is on its way!
In January 2016, the Open source advocate and former DX Lead at UBER published an article on Medium under the headline "2016 will be the year of conversational commerce". The rise of messaging apps (surpassing social networks in active users) and recent tech players integrations, such as UBER allowing users to request a ride within Facebook Messenger, seem to open new opportunities for brands and platforms.
One year later, it is now obvious that the trend is not fading, "as every major tech company and secondary player has actually launched a platform that allows you to build services and experiences into messaging context as well as voice computing context", Chris Messina explained.
From a design perspective, conversational bots are the best existing technology at providing frictionless and "close to natural" experiences. If kids can interact for minutes upon minutes with Siri, just as easy as they do with their stuffed animals, it is because conversation is the most spontaneous mode of interaction. In a way, voice computing bots and chatbots "renegotiate meaning" between a person and a device. "It's not longer about me having to change my thoughts to fit an interface that some designer created for me, it's more about a dynamic that allows me to say roughly what I think I want", Chris Messina claimed.
What does it mean for brands ?
Context is key
More and more, service companies will have to ask themselves: of all experiences available to users, which platform will better serve their needs and deliver the best service? When thinking about building bots, a brand must set the right expectations."Bots that over-promise and under-deliver actually cause people to not want to engage", Chris said, and ultimately it can slow down the wave of conversational services.
If bots surely ensure a smooth transition from one service to another, it doesn't mean that it will replace native apps. Rather, their success lies in the relevance of their use. What part of a brand's services make sense in a conversational context whether messaging or voice computing?
Human or bot, only empathy matters
Today, behind the UBER bot on Messenger, there is a human. Because bots can't (yet) experience empathy the same way we do, we need "cobots" to ensure a collaborative relationship between bots and humans. It will only be a matter of time until "computer-driven bots will become more human-feeling, to the point where the user can't detect the difference", he argues in his article. Therefore, the next challenge for UBER and other service companies is to create conversational products that "provide empathy with a human touch and provide great utility and speed to serve (users) better".
Gain a competitive advantage
With the shift operating from computing devices to a technological environment, discreet and all around, the winners of the bots race will be the ones able to design products with extreme personalization and adaptability. Services that treat everyone the same and offer the same interface to all its users, like our current apps, won't survive "the whole movement towards more adaptive, more responsive and more forgiving conversational products".
In the same way, the richness of language and "soul" development will distinguish good from bad bot services. Award winning experiences like Lt Reyes from Call of Duty and The Winston Show from computer conversation company PullString provide great examples of such evolution.
PullString - Call of Duty: Infinite Warfare Project
Single bot versus Meta bot
If the bot technology is nothing more than creating character that mimics the human behavior and relationship, then we can envision the future of bots as a segmented and topic-oriented interaction. Just as a friend introduces you to someone else, a meta bot will invoke small and special-purpose bots to answer your needs. Rather than having a single bot assistant, you will interact with multiple characters that reflect parts of the service you want to use.
Having conquered our mobile devices, conversational products will then reach the home and car environments, predicts Chris Messina.
Be sure that FABERNOVEL like UBER will be ready for this new move.