Pressroom
Fabernovel analyses Slack in its latest study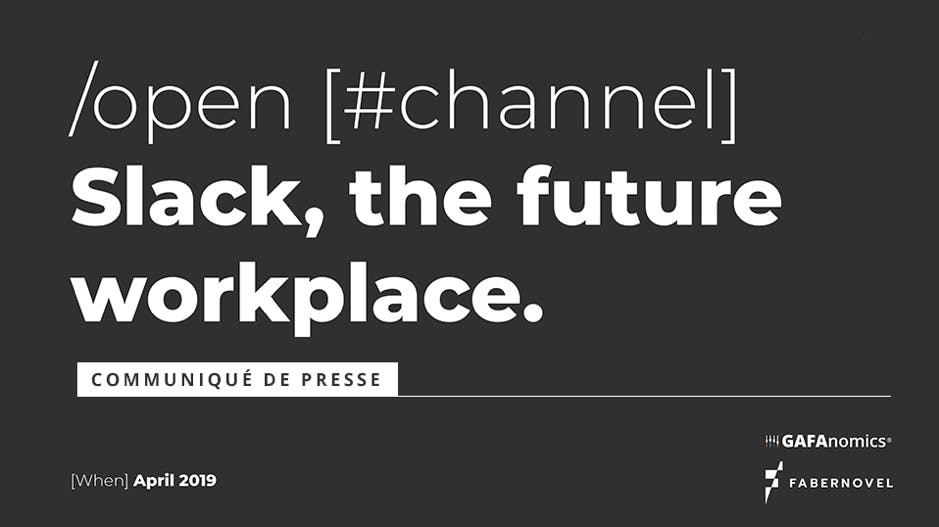 Since 2006, Fabernovel has been producing studies which are available to all, thus completing one of its missions: to contribute to the understanding and accessibility of the digital revolution. Writing these studies with 2 to 5 analysts - is the opportunity to go further and deeper in the exploration of the growth trajectories of the champions of the digital age.
By developing clear frameworks, they help in deciphering the success factors behind the rise of  the GAFA, unicorns and Chinese tech giants. The aim is to analyze all the competitive dynamics of this new economy, its performance levers and its development strategy.
Following its studies of Uber, Tesla and WeChat, Fabernovel is now conducting a new study to analyze the Californian tech unicorn Slack shortly before it launches its initial public offering.
Slack, the future workplace
Slack, Airbnb, Pinterest, leboncoin – all these companies are set to launch their initial public offerings (IPO) in 2019. While they are all tech companies, Slack is the only one which exclusively targets a B2B market. In 2014, it became the youngest unicorn in history, before being dethroned by Bird in 2018. Today, Slack is worth $10 billion. By way of comparison, Amazon's IPO was less than $1 billion in 1997. Today, it hits $0.94 trillion!
While Slack is now known as the platform which renders other communication tools obsolete, its origins are quite surprising. You might even call it serendipity. It is actually thanks to the development of the video game Glitch that Slack ever saw the light of day.  The messaging system in Glitch was so popular among its players that Stewart Butterfield and his teams decided to abandon the game to launch a messaging app in 2014. It was a successful change in direction.
In retrospect, the secret to its success can be seen in the three strategies implemented by Slack. 
Leveraging its ecosystem to become the workplace super app
Slack is based on the platform model. It is not just a way to connect a service but also a genuine infrastructure which offers third parties the ability to create value in their own environment.
Slack has effectively made use of the network effect by paying close attention to its ecosystem using a strategy centered around an open platform.
Today, there are 200,000 active developers who have contributed to making Slack one of the most connected platforms in the world with 1,500 applications available in just 3 years, compared to Salesforce with 5,000 (in 15 years) or Yammer with less than 10. Slack leverages its initial value proposition (e.g. file search and sharing as well as synchronization across all devices) with the services of a myriad of third parties to maximize interactions between employees, data and applications. It has one goal: to become the "one-stop shop" for the workplace.
2. Introducing the user experience to the business world
Slack has 10 million users with two hours and thirty minutes of active time per day each (or 125 million cumulative hours per week). This kind of success cannot be explained solely by its partnership strategy. Another factor is the user experience (UX) which Slack introduced to the business world.
Even though Slack may not seem revolutionary at first glance, it does help to centralize and simplify communication within companies. It combines the advantages of email, the responsiveness of instant messaging and the accessibility of social networks, all presented within a beautiful, minimalist interface. Slack has introduced consumer application standards to companies: easy-to-use interfaces and functions requiring little or no instruction from the start, making it easy to adopt.
However, Slack most importantly offers employees a new frame of mind.  Inspired by the world of video games, its environment is modern and friendly when compared to other rather "cold" business software solutions. Everything has been done to make it fun to use, such as having personalized statuses and adding new emojis. For example, Fabernovel has 1,200 emojis, which have become a language specific to the company itself. There is also Slackbot, a bot which acts as a coordinator by performing tasks such as connecting two employees for a meeting or bringing users closer together. Slack has become trendy, which is a competitive advantage in attracting talent. The words "slacked", "slacker" and "a slack" have even become a part of mainstream language.
3. Transforming companies via the platform
To enter the B2B market in which email is predominantly used, Slack was able to find the perfect balance between its product and the market. While Slack did adapt its product, the company also went a step further by transforming the market to achieve its vision of "where work happens". Slack does not see itself simply as business software but as a comprehensive organizational transformation solution. This can be seen on three levels.
On a cultural level: Slack software embodies openness, agility and tech. It enables companies to adopt this new culture to become digital companies themselves and to embrace the same rhythm as the Big Four (GAFA).
On a structural level: Slack accelerates the transition in companies from a vertical structure to a horizontal structure in which all people at all levels can interact with each other with fewer hierarchical obstacles. Companies are thus decompartmentalized, leading to greater transparency and cross-functionality. Slack goes so far as to expand the working perimeter to include clients or freelancers with whom companies work.
In terms of processes and habits: Long gone are the days of doing tedious research or not knowing who to contact to find an answer to your problem. Slack allows users to instantly display their requests to all members in a #channel or even ask Slackbot directly. Slackbot is a virtual assistant which is fed data and information exchanged or shared by people, and can be configured to automate certain responses. For example, just type into any #channel "where to eat near Saint-Lazare train station" and Slackbot will wake up and generate a response instantly.
Software in this case is no longer a constraint but rather a way to increase employees' potential creativity by spending less time on time-consuming tasks or spreading yourself thin between tasks and searching for information, files, etc. This depends on knowing how to manage this continuous and disorganized flow of information as well as numerous notifications.
All in all, Slack is a coach, a good friend and an assistant which transforms an organization's processes and habits.
However, it is also a new business strategy: to make use of its tools and new practices, Slack also had to reinvent the classic top-down approach in B2B. Usually, Slack's primary customer is not the purchasing department (top) but the users (bottom) who rarely get to choose the tools with which they work. This is called the fait accompli strategy: once Slack has identified several teams in a company which actively use its tool, it can make a strong argument for itself by showing that it works (proof through use) in order to have it implemented within the rest of the organization. Rather than just purely B2B, Slack opted for B-2-Employee-2-B.
Slack has transformed companies by reinventing the workspace to shift our concepts of location and space and of time management from the old days of having physical offices or laptops to the use of a software platform.
A valuation 10x higher than Microsoft's at the launch of its initial public offering (1986)
Slack's customer acquisition strategy has proven successful as the company now has more than 10 million daily users, 38% of whom are paid users.
This large community, which is comparable to that of Microsoft Teams, enabled Slack to grow to $7.1 billion in value during its last round of fundraising in 2018. With just a few weeks to go before the launch of Slack's initial public offering, Fabernovel has come to the following conclusions:
In the event of a takeover and based on what Microsoft was willing to pay for Slack in 2018, Slack could accept an offer between $20 billion and $30 billion due to the potential synergies with the buyer and Slack's current size.
In the event of a direct listing (the most likely scenario), Slack still has a lot of room to grow, both in terms of its customer base and its range of solutions. By comparing Slack with other tech companies and Software as a Service (SaaS) companies in the B2B space in particular, we estimate that Slack will be valued at $10 billion at the time of its initial public offering.
 Microsoft's Productivity and Business Processes segment (which includes Teams, Office, Azure, etc.) is now valued at nearly $350 billion. If Slack grew at the same rate as Microsoft did in its early days, it would take nine years for it to overtake this $350 billion mark. The battle between Slack and Teams has only just begun, but while Microsoft has the advantage of its infrastructure, such as with Office, Slack dominates through its ecosystem of APIs and startups.
Content