Top 10 AI startups improving your business operations
July 4, 2017, 7 min to read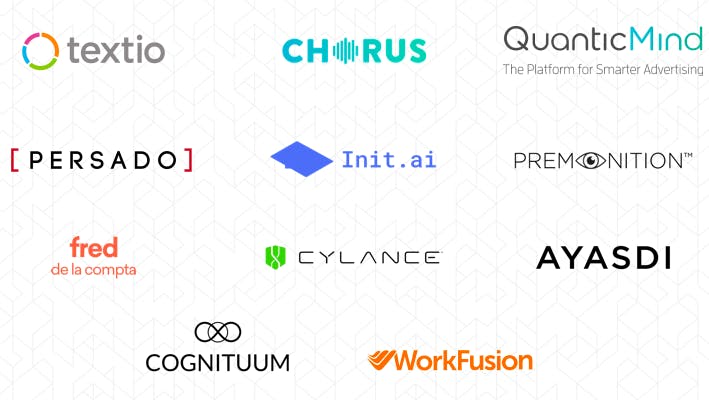 artificial-intelligence-ai
coding-and-development
startups
trends
Artificial intelligence is invading the tech world and now most startups claim their technology is using Machine Learning and Deep Learning. As it becomes hard to distinguish the fade from real hardcore technologies, here are the top 10 AI companies on our radar improving your day-to-day business operations.
Human Resources
1) Textio : A platform using Machine Learning to improve your job posts
Location: Seattle, WA
Total Funding: $9.5M
Founded: 2014
Textio is a Seattle-based startup analyzing public and private data such as job listings and hiring outcomes from over 50 million sources. The end result is to understand the most efficient language to adopt in job posts. They developed a machine learning platform to identify these language patterns and predict what works best.
Their platform is able to suggest similar words or sentences to attract a certain population of workers, to lift the percentage of qualified applicants or to fill the job twice as fast. Once a job post is uploaded on their platform, Textio will give it a rating and guidance on analytics.
Sales
2) Chorus.ai : A platform using AI to transcribe and analyze meetings and calls in real-time
Location: San Francisco, CA
Total Funding: $22.3M
Founded: 2015
Chorus.ai's platform is combining natural language processing and data analytics to understand what is going on during a sales call and give employees recommendation and guidance for future discussions. By recording, transcribing and analyzing meetings in real-time, their platform understands the content of the call, delivers recommendations and helps companies employees' on-boarding.
Concretely, the Chorus's platform takes notes such as next steps and pricing, import information directly to your CRM and delivers critical insights on deal outcomes.
Marketing
3) Persado : A platform generating combination of words, phrases, and images to increase your CTA rate
Location: New York, NY
Total Funding: $66M
Founded: 2012
Persado is a provider in marketing persuasion technology, a new category within digital marketing. Powered by cognitive computing technologies, Persado's platform uses semantic algorithms to map emotions and generate language for marketing communications such as emails, landing pages, mobile, push notifications and social media. The platform runs on 1M+ curated and tagged emotional and motivational words, phrases, and images collected over several years.
Brands using Persado — AmericanExpress, Citi, MetLife, Microsoft, Neiman Marcus — have realized an average uplift of 49.5% in conversions across marketing campaigns by letting Persado crafting message permutations and selecting the ones with the highest potential for success.
Advertising
4) QuanticMind : A predictive advertising management software for paid search and social channels
Location: Redwood City, CA
Total Funding: $10.3M
Founded: 2011
QuanticMind is a predictive advertising management software for paid search and social channels. They built integrations with most of the players in the field to enable their clients to automate their flows.
QuanticMind uses machine learning techniques to eliminate the process of manual keywords grouping and leverages predictive analytics to help clients win auctions.
Customer Relationship
5) Init.ai : A developer platform enabling its users to develop language conversational mobile applications
Location: New York, NY
Total Funding: Undisclosed
Founded: 2015
Init.ai's developer platform enables companies to create natural language conversational apps and services. Their platform offers a solution that handles messaging by automating interactions to deliver an experience including integrations with third-party APIs. Their solution processes not just single messages but whole conversations to extract intent and meaning.
Users can create conversational apps that handle context and follow on questions. They can also augment human agents as they serve customers or interact through multi-user chats.
Legal
6) Premonition : A startup applying big data technology to build the world's largest litigation database
Location: Miami, FL
Total Funding: $5M
Founded: 2014
Premonition is a startup crunching large public dataset to find out which attorneys win before which judges. The idea is to put all the chances on client's side to win a litigation. According to its cofounder, Toby Unwin, "the Premonition system can 'read' and analyze over 50,000 documents per second" to push its answer.
They developed products dedicated to certain verticals such as legal, insurance, finance to know the track record of an attorney, select co-counsel who have never lost in front of certain judges and analyze the court, judge and opposing counsel by their win rates and results.
Accounting
7) Freddelacompta : An application to automate accounting processes
Location: Paris, France
Total Funding: $3.88M
Founded: 2015
Freddelacompta is an automated digital accounting application that classifies documents for its users and advises them daily on their business matters. The application sorts and organizes the accounting documents of its users online, in the cloud.
They target both entrepreneurs, SMEs and large organizations. If a company doesn't have an accountant, Freddelacompta can support this function. If a company already has an accountant, then their platform can support its job.
Cybersecurity
8) Cylance : A cybersecurity solution to predict and prevent execution of advanced threats and malware
Location: Irvine, CA
Total Funding: $177M
Founded: 2012
Cylance was one of the first companies to apply machine learning to cybersecurity. Using predictive analysis process, Cylance products identify what is benign and what is a threat.
They have developed an antivirus and application control solution, CylancePROTECT, a solution for local integration into network appliances, endpoint software, and services platforms, CylanceV and an endpoint detection and response product, CylanceOPTICS.
Transversal AI applications
9) Ayasdi : a platform to solve data analytics challenges
Location: Menlo Park, CA
Total Funding: $106.35M
Founded: 2008
Developed by Stanford computational mathematicians, Ayasdi platform leverages topological data analysis as a way to amplify machine learning techniques. They manage to help large organizations to automate and accelerate the extraction of knowledge from complex datasets. Ayasdi is a startup we recently met with one of our corporate partners.
Concretely, clients will come to them to tackle a challenge with a high ROI and where they have enough data. From there, Ayasdi will develop applications on top of their platform to provide an interface to business users that provide the necessary elements to completely understand the actions of the model or algorithm without having to understand its inner workings. Applications go from unsupervised tasks like segmentation or anomaly detection through to supervised execution of linear models
10) Workfusion : Set of tools using cognitive science to automate business processes
Location: New York, NY
Total Funding: $71.3M
Founded: 2010
Workfusion is a rising star in the field of robotic process automation (RPA) and is pushing the effort in Smart Process Automation (SPA), a mix between RPA and cognitive computing. Concretely, WorkFusion automates enterprise business processes by combining robotics, cognitive automation, and workforce orchestration. We met Andrew Volkov, co-founder and CTO of Workfusion, in May 2017 in the context of a meeting with a banking client.
With their RPA solutions, anyone can configure complex processes and automate them. The goal is to eliminate repetitive, rules-based work of operating legacy applications, like Citrix, SAP and Oracle from employees' work. With their SPA solutions, WorkFusion automates processes of training and selecting machine learning algorithms for work that's too complex for robotics. Their platform can use historical data and real-time human actions to train models to automate judgment work in a business process, like categorizing and extracting unstructured information.
Bonus: General Artificial Intelligence
11) Cognituum : a cognitive computing platform enabling instant insights from your data
Location: New York, NY
Total Funding: Undisclosed
Founded: 2017
Cognituum, developed by Peter Olausson and Sevak Avakians, is another startup we met from the New York ecosystem. Its team developed a platform for cognitive computing that doesn't require modeling the data or knowledge engineering, so it continues learning and adapting in real-time. Its cognitive processor works for any problem domain without re-coding.
The cognitive computing engine they developed is capable of predicting and analyzing structured and unstructured, linear and non-linear, time-independent and time-dependent datasets, accessible through a web interface. For software developers, it provides an API to instantly add intelligence to existing applications.