GAFAnomics: new economy, new rules
January 14, 2014, 2 min to read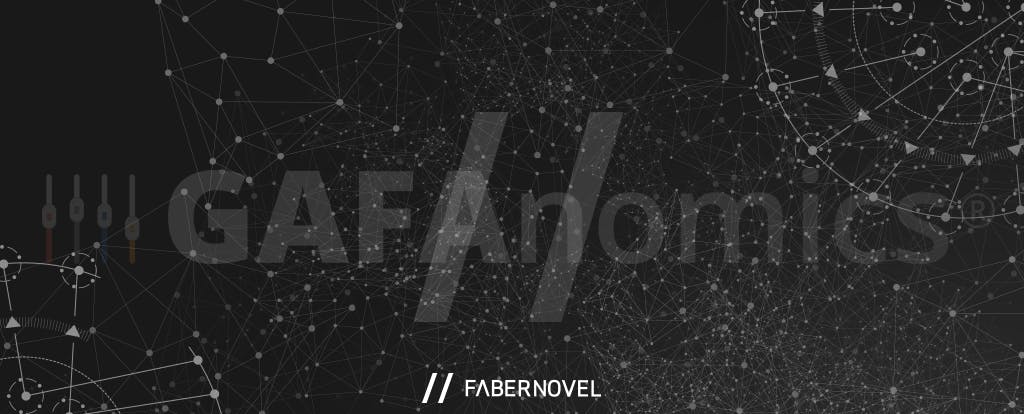 Our new study GAFAnomics deciphers the most successful tech giant: Google, Amazon, Facebook and Apple.
At FABERNOVEL, we publish a study every year deciphering how new platforms are disrupting the business world. Since 2006, we have covered Amazon, Facebook (reaching over 6M views), Linkedin…
This year, we combined our analysis and explain the success of GAFA. Our latest study, GAFAnomics, defines their trajectory, deciphers their visions and plans, and explores the cogs of their unparalleled growth engines.
22 years: the average age of Google, Apple, Facebook and Amazon. 22 years of growth frenzy, combined with the upheaval brought about by the Internet to our businesses, our lives and our civilization.With over 300 billion euros in cumulative revenue, a productivity rate three times the average, and a customer base covering nearly 50% of the connected population, GAFA have become, in less than twenty years, the four superpowers of the new economy. "Search engine","e-commerce", "smartphone","social network" are the common nouns they have added to the of the 21st century dictionary.
But beyond this disruption in our daily habits, GAFA have fundamentally changed the established rules of business strategy: they ignore classic concepts of market, competition, positioning or plain goods. Instead, they have achieved a Copernican revolution that truly places the customer at the center of their strategy.
With our study you will:
– identify the key success factors of these fantastic four,
– understand how to conduct your business strategy in the era of GAFA,
– develop a dashboard to measure and to start thinking about your business the GAFA way, by simply starting from your customers.
"GAFAnomics" will help you see your industry through GAFA's eyes: understand their vision of the world and align this analysis with your strategic actions – at a digital pace.
The "GAFA Framework"
To achieve this, we completed our analysis with a framework, a simplified reading grid of their business models and value creation levers. We are convinced that the best key to your digital transformation is understanding and applying this "GAFA framework". This framework can be replicated in any industry: in the customer value creation field, every business can compare itself to GAFA. Our framework shows the necessity to organize and grow around the unwavering ambition to make a positive change to the customer's daily life.
null