Conference - API Days favorites
January 9, 2019, 2 min to read
The parisian edition of APIDays took place on the 11th and 12th December. With 5 tracks of 12 talks every day, there is plenty to say. Here is a digest of the talks that engaged us the most in the technical API Design & Architecture.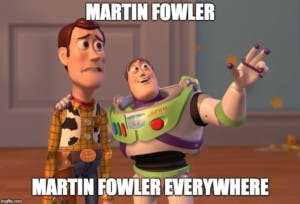 First of all, the influence of Martin Fowler was stunning. He was quoted in almost every talk to such an extent that architects seem have elected their guru.
In a dense talk, Zdenek Nemec of Good API presented an interesting API classification: customer specific, generic, harmonized, automated and finally autonomous APIs. His ending slide placing those classes on Simon Wardley graph about service commoditization is particularly effective.
For those building APIs with dodgy dependencies, Phil Sturgeon of WeWork, one of the few Ruby fans at APIDays, introduced the circuit breaker pattern, and how you leverage it with service mesh. The modification of the WeWork website page structure according to circuit breakers states was slick.
On the academic side, speakers are sadly quite rare in software engineering conferences. One of them, Cesare Pautasso from USI Lugano, demonstrated that current research topic could immediately benefit to our work. He walked us through its BAC theorem - Back-up / Availability / Consistency - explaining you could not get more than two of those tree, in a polyglot micro-services architecture. Polyglot describing micro-services operating a different persistency system.
Talks with a domain name never inspire trust, as it often ends up as a half hour marketing commercial rather than a real talk. But this one proved this cliché wrong. Kévin Dunglas from Les tilleuls, a software engineer co-op, presented its platform Mercure that aims at simplifying the work of pushing updates from the server. This open-source solution looks quite promising. It is based on a similar concept as mobile push systems like the one from Apple or Google.